Uncharted Course
an HH Role Playing Game fic
Cast
Laura Horatio Hornblower
AJ Archie Kennedy
Melissa Mr. Bush
Julie Lee Captain Sawyer
MM Mr. Wellard
Young Snotty Mr. Buckland
Molly Mathews and Styles
Linda Dr. Clive
Heather Olson Mr. Hobbs, Randal, The Powder Monkeys, Sergeant Whiting
Cast: May change as players and characters come and go. Not too much though...
---
"But now I hand her off to you, Mr. Hornblower. The watch is in your hands, sir."
LOCATION: Renown
TIME/DATE: Late afternoon, Jan 24th, 1802.
(Renown: Main deck)
Horatio Hornblower stepped out from below and onto the deck of the Renown. The right side of his mouth raised slightly in which some might have described as a half smile. It was almost time for his watch, but he loved to walk on deck a little prior to it. The sea air cooled his cheeks and tousled his curly hair. He had come to love the sea and was especially happy to learn of his transfer to the Renown to be under the command of the famed Captain Sawyer. Hornblower looked at the clear water below him and exhaled sharply.
~Horatio~
"Horatio!!"Archie hailed his friend and shipmate from some from somewhere up in the rigging, where he was showing a few of the young gentlemen how to properly sight off the horizon."Early as usual, I see!" Kennedy swung down the ropes, leaving many of the midshipmen in awe and landed next to his friend."Had a pleasant sleep,
I pray?"
~Kennedy~
Horatio smiled at his friend Archie. "Good afternoon, Archie." He smiled again. "Pleasant enough, I suppose," he stated, rubbing the back of his neck. "Damn those small quarters," Hornblower teased. "Anything happen while I was out?" He asked, knowing that in all likelihood, the answer would be no.
~Horatio~
"Well, other than dodging a few a few gulls, not really." Archie shot a meaningful look towards the Captain's cabin. " Captain hasn't been on deck in the last few hours. I believe he's taking a late supper so he has been indisposed." A slight sigh of relief passed Kennedy's lips before he could stop it."But now I hand her off to you, Mr. Hornblower. The watch is in your hands, sir. Ohhh, and that would involve getting the young gentlemen down from the top. A larger bunch of lubbers I have never seen. Well, except for Mr. Wellard, he's seems rather natural if rather nervous.
~Kennedy~
(Scene change: Captain's cabin)
Captain Sawyer sat at his desk, enjoying the comfort that is brought by the knowledge that one is surrounded by faithful men and the occasional sips of red wine, as he glanced over the morning's log. At first watch it had been necessary to reef the top'sil, but he had had overseen the maneuvers with an experienced with an experienced eye. Tough work, seeing to the smooth running of the ship and making sure that every hand was at his duty, but there was no doubt of his being equal to the job. Glancing up from the scrawl he saw his two junior lieutenants, Hornblower and Kennedy, through his cabin window. "You there!" He called trough the open port. "I'll have no lolly-gagging on my deck!"
~Sawyer~
LOCATION: Renown
TIME/DATE: Late afternoon, Jan 24th, 1802.
(Renown: Main deck)
Horatio turned at the sound of his Captain's voice. He was definitely a strict man... there was no doubt about it. But he had quite a reputation. "We meant no disrespect, sir," Hornblower said, addressing the Captain. "We were merely greeting each other. It's a few minutes before my watch begins, and we..." He trailed off, spreading his hands in a gesture of not knowing what else to say.
~Horatio~
"Yes sir!! I was simply telling Mr. Hornblower that the watch has been peaceful and that the young gentlemen need to learn a few more skills." Archie allowed his usually smiling face to become as unreadable as Horatio's. "Passing the word along so the ship runs smoothly, sir.
~Kennedy~
"Quite right, sir," Horatio nodded in agreement with Archie's words. "Mr. Kennedy has been instructing some of the midshipmen and now he is turning the watch over to me. So, unless there is anything else, sir, I believe I must begin my watch..."
~Horatio~
(Captain's cabin)
"Very good, then, Mr. Hornblower. Carry on." Sawyer called out to him. Turning his gaze to the other man in question, he said, "Mr. Kennedy, come to my cabin please, sir. I desire a word with you." With that, the Captain turned back to the logs and charts on his desk. Yes, the evening had been wonderful so far.
~Sawyer~
(Main deck)
"Thank you, sir." Hornblower said, touching his hand to his hat. Poor Archie...Whatever could the Captain want with him? As far as Horatio knew, Archie had been rather quiet since their arrival on the Renown and had done nothing deserving of a talk. He looked up in the riggings. The midshipmen were still there...unsure if it was alright to come down without orders."You may come down now, gentlemen!" Horatio called, tilting his head upwards.

LOCATION: Renown
TIME/DATE: Late afternoon, Jan 24th, 1802.
(Renown: Upper deck then Captain's cabin)
"Yes, sir." Kennedy tugged on the brim of his hat, nodded to Hornblower, and said, "The watch is yours, Mr. Hornblower." one more time, and went below to his Captain's cabin. If the truth be known, Archie's heart was pumping a little faster as he knocked at the Captain's door. He could think of nothing that should bring him before his commanding officer, but as he was starting to learn, sometimes there didn't have to be a reason. "You wished to see me, sir?"
~Kennedy~
(Main deck)
Wellard scrambled down the riggings. He hated it, being up there. He had no control over what happened below, and he couldn't stand that. He needed control, and it was slowly slipping away with each passing moment. This was his first real assignment, his first ship, so he wasn't sure if what went on was typical behavior, but something wasn't right. Like Mr. Kennedy--what did he do? Why did the Captain want him. Wellard prayed Kennedy would be all right.
~Wellard~
Horatio nodded to Wellard as he scurried down the riggings. Such a quiet boy. But honest and hard working. Horatio already had respect for him. "Good day, Mr. Wellard. I trust things are going well? You did learn from Mr. Kennedy today, I assume...he didn't joke too much?" He teased, knowing Archie's tendency to sometimes get off task. But he was a good and patient teacher...
~Horatio~
(NOTE: Location Change: Captain's Cabin.)
Dear Captain Sawyer
Dear good men of the Renown,
I regret to inform you that I must take shore leave from 14 to 27 of
January. An outbreak of cholera in my home borough of Kenilworth has
devastated the populace there and I fear for my family's sake. I
shall return immediately to duty upon arrival of supplies and
reinforcements. Please forgive the abrupt manner of this letter.
Regards,
Edmund Clive
~Dr. Clive~
(Captain Sawyer was glancing at his mail just before his Fourth Lieutenant knocked...)
"Yes Mr. Kennedy, come in. I noticed you out there this evening instructing some of our midshipmen the finer points of seamanship. Tell me how they are coming along. note any sort of brilliancy about them?" Sawyer leaned back in his chair and carefully observed Kennedy's face. It was, naturally a captain's duty to know all that was being done in his ship.

LOCATION: Renown
TIME/DATE: Late afternoon, Jan 24th, 1802.
(Captain's Cabin)
Kennedy relaxed somewhat as he mentally reviewed the ship's compliment of midshipmen," Well, I have to say sir that this bunch is actually rather bright. As I'm sure you've taken notice sir, they are becoming very learned in the math's, and are beginning to put it too good use. And not a one of them is frightened of heights. But if I were to pick the best among their number I would have to say Mr. Wellard. He is a very quick pup." Here Kennedy allowed his grin to widen." And he takes orders very smartly, Captain, though he can be a might nervous."
~Kennedy~

"Ah, yes. Mr. Wellard." Sawyer nodded to himself, thoughtfully. His mind called up distinctly the doe-eyed midshipman. He thought a for a moment to say something further, but then decided against it. No need to say more than necessary. Glancing at the charts still before him he turned his back to Kennedy and waved his hand dismissingly. "Pass the word to Mr. Buckland. See that I am not disturbed for the rest of the night."
~Sawyer~
(Captain's cabin then Wardroom)
Aye aye, sir. Mr. Buckland it is. *Breathing a silent sigh of relief, Mr. Kennedy made for the Ward Room. Ducking his head so as not to knock it against the frame (he still remembered how Horatio had beaned himself his first day aboard) Archie searched the room for the first lieutenant. He did not see him, but found Mr. Bush taking a late meal at the table* Have you seen Mr. Buckland, by chance, Mr. Bush?
~Kennedy~
"Mr. Buckland? No, I haven't seen him." Bush's tone was not overly friendly, yet held no real animosity. His attention returned to his supper. "What do you need to find him for. Is it urgent, Mr. Kennedy?"
~Bush~
(Captain's cabin: Early evening)
Sawyer swept away the charts and logs with a sigh of disgust and leaned back in his chair, thoughtfully fingering the bundle of papers concealed in his pocket. Was the time right? Orders were orders, but... he glanced out the small window that took one entire wall of the small captain's cabin. Dark had fallen already, not long after he had dismissed Kennedy, making it difficult to see outside. Who had the watch? Hornblower, if he wasn't mistaken. How long had it been since he passed the word for Buckland? Too long. The ship wasn't that large. Irritated, he flung the door open and yelled into the darkness. "Mr. Hornblower! Find Mr. Buckland. I want to see him in my cabin in five minutes!"
~Sawyer~
(NOTE: Captain Sawyer has declared that it is night. Many of us missed this at first... I know I did. Though we could have simply marked it off as the Captain's um... delusions... It proved to be useful to set up story an event that was yet to occur... His orders also go from simply "Pass the order to Mr. Buckland that I'm not to be disturbed." to "Get Mr. Buckland's butt in here." I suppose we can put that one down to his mental stress. Heh, heh...)

LOCATION: Renown
TIME/DATE: Early evening, Jan 24th, 1802.
(Wardroom)
"Well, the captain was wishing to see him, sir, and... " At that moment, Kennedy and Bush heard the resounding shout from Captain Sawyer. Kennedy gave a small wince, knowing that if the captain was in a particularly nasty mood he could look forward to getting a talking at for slacking. But perhaps the captain would be more interested in taking on Mr. Buckland, "There he goes again..."
( Must have been said with a hint of sarcasm or annoyance. As Bush, below, gets kinda upset.)
~Kennedy~
"Mr. Kennedy! I suggest you be more careful, and perhaps less free with your words!" Bush said sternly, attempting to offer the younger man a warning. "Surely you realize it is unwise to criticize the Captain as you do." Although, from what Bush had seen so far since his arrival on the Renown, the criticism could very well be warranted. Still, as an officer, it was not his place-- nor Mr. Kennedy's-- to give it.
~Bush~
(Main deck then Captain's cabin)
"Yes, yes, of course, Mr. Hornblower," Buckland replied, smoothing his waistcoat into place. Mr. Hornblower nodded without smiling, and Buckland ambled past him.
Really, it wasn't his fault. He wasn't on watch, and the ward room was rather stuffy, and so he'd decided to go where it was more convenient and peaceful to slip a sip or two. Of course, he would need another excuse for Captain Sawyer, and so he thought of one.
He knocked on Sawyer's door, and the captain's harsh voice bade him enter.
"Sir, my apologies, I was forrards, inspecting the anchor cable."
Sawyer narrowed his eyes. "Again, Mr. Buckland?"
"Yes, ahem, yes, Sir. It's a constant worry of mine, that the cable should fray, sir."
Captain Sawyer glared at him for a few instants, and then continued...
~Buckland~
(Main deck)
Hornblower tugged at his hat after the Captain delivered his orders. "Aye aye, sir." Turning to go in search of Buckland, Horatio was surprised to see him coming from below. "Oh, good day, Mr. Buckland, sir. The Captain had just sent me looking for you...." Buckland passed him by and Horatio shrugged, and turned, hoping to see Wellard.. Whatever happened to him?
~Horatio~
(Captain's cabin)
Sawyer glanced up from his musings at the knocking on his cabin door. "Come in! Ah, Mr. Buckland. So good of you to make an appearance. Please sir, sit down." He gestured towards a chair nearby. "Can you have any idea why you've been called here, hm? Only thought it right to discuss it with the first lieutenant, after all." Here he withdrew the packet from his coat pocket and waggled it in the air between them. "Any idea at all?"
~Sawyer~

LOCATION: Renown
TIME/DATE: Early evening, Jan 24th, 1802.
(Captain's cabin)
Buckland tried to smile as he stared at the Captain. His head felt a little fuzzy--inspecting the anchor cable was, after all, rather dulling on the wits. Heavens, he should have known that the Captain would send for him--but he DID know that whatever he said would be wrong, and then the Captain would mock him, AGAIN. Probably, the packet contained orders of some sort, it had the Admiralty seal on it. But were they secret orders that he wasn't supposed to know about? Or did the Captain mention themalready? Or were they not orders at all, but more prosaic dispatches, letters from his mother, perhaps? It was so dratted hard to think straight.
"Sir..."
~Buckland~
(Main deck)
Master Gunner Hobbs stood on the deck of His Majesty's Ship Renown. He rested his hand on the rail near the cannon his men were cleaning. One of Seventy-four the ship carried, she was pulled back from her port for the task. "Make sure those lines are tight when you're done lads." Hobbs said gruffly, " Looks like it may be rough tonight, an we don't want this beauty running loose on deck." He added. The gunner's mates nodded their agreement. Hobbs looked aft. His thoughts werer divided between watching his men, and observing the little drama playing out before him. The gunner had only just heard his Captain shout for Mr. Hornblower to find the ship's errant First Lieutenant Mr. Buckland. He had seen Hornblower walk forward toward the forecastle ( pronounced fohk-sul ) only to have Mr. Buckland magically appear from below decks there anyway. No doubt flushed out upon hearing the Captain's roar. Aye but the Captain could roar... Thought Hobbs, God love im'. He stepped forward, careful to look out for the thick cable linking the cannon to the ship's rail. Hobbs observed Buckland knock on the Captain's door and enter. Lieutenant Hornblower seemed to casting about the deck as if he'd lost something, or someone.
One of the mates looked up from cleaning the gun's bore and noticed the look on his Master Gunner's face, " Buckland's been inspecting the anchor cable again eh?" The comedian barely suppressed a chuckle. The others guffawed loudly.
"Wots the count today?" One of the men asked. "Three?..."
Hobbs turned to his men. "Softly lads..." He
"Four times." Randal had just come down from the tops, leaned over the gun-barrel and whispered." Mayhap, Mr. Buckland and the anchor cable should share a berth?" Randal grinned. Hobbs groaned. Not only was it was a bad joke... But at an officer's expence--- No... it was at Buckland's expense. Besides the men started chuckling, and the good mood it created was somewhat infectious. Hobbs couldn't hold back something of a smirk himself. Suddenly the men stopped laughing. Hobbs alone was still removing the grin from his face as the men starred right past him, the color gone from their faces. He stood straight up, and composed himself in a heartbeat. Someone was behind him. With a great measure of control, Hobbs turned about.
(When I wrote this gun cleaning scene I thought it was still the late afternoon. Oh well... 74 guns would take some time to clean I suppose. Heh, heh... )
~Hobbs~
Hornblower heard the laughing and joking from his position further up the ship. He turned and saw Hobbs and his gunner men talking quite loudly. Hobbs...the man who was unbearably devoted to his captain and at times, nearly insolent to his superiors.
Slightly rolling his eyes, Hornblower made his way to where Hobbs stood, and waited behind him for him to feel his presence. When Hobbs did turn around Horatio asked, "Mr. Hobbs...what is this all about? You are to be cleaning the guns...a very serious duty...not to be acting as if you were in a pub." He clasped his hands behind his back and waited for Hobbs' reply.
~Horatio~
Hobbs turned to face Mr. Hornblower. He stood for a moment before the Third Lieutenant, toe to toe, and eye to eye. He listened with half an ear to the young officer prattle on. His cold blue eyes studied Hornblower's intense gaze, hunting for a some sign of weakness. Finding none, his steely gaze drifted from the Lieutenant's dark eyes to the deck. He slowly raised his hand to his hat and touched the brim."Aye, aye sir." Hobbs said with as little respect as he thought he could get away with.
~Hobbs~
(Note: This next Post is cut from one that I saw much latter... but I think it fits about here...
I don't even remember seeing Sawyer's original post for this. I found it attached to a Buckland post.
I'm going to claim Hobbs was far too distracted by the staring contest with Hornblower to notice. lol )
(Captain's cabin)
"Well," Continued Sawyer brusquely, suddenly staring at the bundle contemplatively. "It seems that the admiralty has some ideas of their own for us. Orders. Straight from Nelson himself. Tomorrow we alter course." He replaced the afore-mentioned orders, neatly tucking them back into the inside pocket, then leaned back with a satisfied air. "Breathe a word of this to no one, understood? Good. I'm not to be disturbed for the rest of the evening. Carry on with your duties." There was much to be considered.
~Sawyer~
LOCATION: Renown
TIME/DATE: Early evening, Jan 24th, 1802.
(Upper deck)
Matthews stood coiling a length of rope, watching the confrontation between Mr. Hobbs and Mr. Hornblower. "Hobbs is no good," he commented to Styles. "He'll be a trouble maker, mark my words." Matthews turned backed to his business, but continued to look over his shoulder for what would happen next.
~Matthews~
Horatio's eyes pierced into Hobbs'. This was what he had been afraid of...
"Mr. Hobbs," He began shortly, "Just what do you mean by talking to your superior in such a tone? When I give an order, I expect it to be followed out without your insolent tone. Is that quite understood, or do I have to bring this before the captain?"
~Horatio
"Apologies, sir." It was half hearted, and almost stuck in Hobbs' throat. "The lads have had
a long day making sure all our guns are clean, as per Mr. Buckland's orders, sir. This is the last of the seventy-four..." He was about to add that the Captain likes his men in high spirits but something off the larboard caught his eye. Something big. He squinted, looking past Hornblower. The moonlight was dim tonight, only a slim crescent against a black and cloudy sky. Could be a trick of the moonlight. Hobbs thought. No, it's a ship he realized. She was running with battle sails and no lights. A frigate, fifth rate, about thirty-six guns. A bloody Frog privateer thinking to catch us napping. The Frenchman had the wind in her favor and Hobbs reckoned they'd be alongside in a minute, fire a broadside for effect and then grapple and board the sleepy Renown. Hobbs's face went from annoyance to surprise to fury in a matter of seconds. " Dammed fools must be asleep in the sheets!" He shouted reference to the men above on watch. Then he pointed past Hornblower to the approaching vessel. " French ship to the weather side SIR!"
~Hobbs~
Horatio examined Hobbs' face for a moment, as if unbelieving of what was coming out of the gunner's mouth. "A ship?!" Hornblower asked, grabbing at his telescope. Extending it, he scanned the horizon toward the larboard side. Indeed, there was a ship! Hornblower snapped his scope back together, then addressed Hobbs'. "Pass the order for Mr. Buckland...I will go inform the Captain!" Trusting that Hobbs would carry out his order, Horatio dashed off to the Captain's cabin and knocked on the door, calling up all the self control he could muster not to bang on it and burst in.
~Horatio~
Hobbs couldn't believe his own ears. "Pass the order to Mr. Buckland Indeed... " He grumbled to his men. He then shouted so Mr. Hornblower would hear him," Pass the order yourself Sir! He's with the Captain!" Hobbs pulled the key to the powder room from a chain around his neck and handed it hastily to one of his men, "Open her up Randal, and call out the powder monkeys, else we'll not be able to give back as good as we get. Get some weapons up here! I don't fancy fighting off that many frogs without pistol and steel to hand!" Randal took the key and nodded. He raced past Mathews and Styles and dashed below shouting the alarm for all to hear.
The French privateer was close enough that they could see her crew crowded on the deck waiting to board the Renown. God's teeth, Hobbs thought. She's fast. Then he noticed something that he'd missed in the dim light.
"Oars! She's outfitted with oars! No bloody wonder!" He turned to the skeleton crew left on deck. Not enough men to fend off that ship, and no powder yet for the guns. Damnation!
One of his men stood beside him holding up a lantern for a better view. "What'll we do Sir?" He whispered. Hobbs shook his head in response and glanced to Mathews. Usually he was at odds with the Bosun but this was no time for old disagreements to get in the way of doing their duty. He was about to ask Mathews if he had any suggestions when suddenly -BANG!- The man with the lantern staggered back with a scream. Blood sprayed from a wound in his chest, and he collapsed between two of the starboard guns. The crew crouched instinctively. They could see a puff of smoke from the Privateer's fighting top, followed by others from the yards hitting too close for comfort..
"Snipers in the Yards!" Someone shouted. "Look out men!" Hobbs couldn't tell who was stating the obvious, his blood was up. He scrambled to the starboard side and pried the lantern from the deadman's hand. He looked at Mathews and Styles... and grinned. The devil's own grin. He ran to the larboard rail. Spun once, and let the lantern fly. He almost fell overboard himself but strong hands pulled him back. Mathews and Styles? He couldn't tell... Didn't care. The lantern sailed high. The French pirates were so closely packed on the deck that it couldn't help but strike one on the head. The man fell, and the lantern broke apart on the frigate's deck. It's contents spilled out and the Frenchmen scrambled to avoid the flames. Then they scrambled to put them out.
"Got you, Bastards..." Hobbs gloated as a couple the men pulled him down behind the rail. This was hardly over yet... but at least it was a blow and it might buy the Renown some time...
~Hobbs~

LOCATION: Renown
TIME/DATE: Early evening, Jan 24th, 1802.
(Interior quarterdeck just outside the captain's cabin.)
Horatio knocked loudly on the door again. "Captain Sawyer, sir! A French ship! To the larboard side!" He cried, hoping the make the Captain hurry. The ship had suddenly burst in chaos. Someone had give the call for General alarm and all hands. It had to be..."Damnit, Hobbs!" Horatio said under his breath. Someone calling General alarm without informing the Captain was bound to make him very angry...
~Horatio~
(Wardroom, then outside the Captain's cabin, at last finishing on main deck.)
Before Lt. Bush could utter another round of warnings to Mr. Kennedy the call for "All Hands" echoed through the ship. Archie stiffened and stared in shock at Mr. Bush, before turning on his heel and scrambling from the Wardroom. Heading for the quarterdeck, he ran directly into Hornblower who was banging on the Captain's door* Horatio, what the hell is going on? I just heard... *A resounding crash echoed all around and Kennedy knew with a sudden nausea that they were being attacked, most likely soon to boarded. Leaving Horatio and Mr. Bush outside the Captain's cabin he raced on deck in time to see Mr. Hobbs nearly go over the side*
Holy mother of... *The other ship, French obviously, was less than a stone's throw from the Renown's side. There was a tremendous crash of cannon and the Renown's side exploded into slivers and moaning men.* Men!!!! TOO YOUR GUNS!!!!" he bellowed, jumping down the ladder from the quarterdeck, running almost before he hit the deck.* Mathews!! Get the bloody netting up before the frogs are upon us!
~Kennedy~
Hobbs's enjoyment of the moment (Re:The lantern throw.) was cut short as the Frenchman's guns opened up on the Renown. BOOM! The rail splintered to the left and right of the gunner's small party which remained unscathed by providence or by luck... Take your pick. Other men nearby were not so blessed or fortunate, and they fell to the deck like barley before a scythe. Through the screams of the men he heard a voice from abaft.
"Men!!!! TOO YOUR GUNS!!!!" He couldn't see through the smoke who. Hobbs clambered to his feet and left the group by the rail and crawled over the debris and the dead toward the voice. He looked up to see Lieutenant Kennedy, and other smoke shrouded figures on the quarterdeck. "Mathews!! Get the bloody netting up before the frogs are upon us!" Hobbs saw Mathews and others leap to the task... but that would take time. Perhaps too much time... He saw Lieutenant Kennedy look his way as if waitng for an explaination. Sniper fire struck the rail near him, and though he flinched he stood his ground.
"There's no powder for the guns SIR!" Hobbs shouted. "I've called for the boys to bring some up! But the frigate came upon us too quickly, sir!" Suddenly there were shouts from the deck of the French ship. Grappling hooks sailed into the air and bit deep into the Renown's rails. A voice from behind, the Bosun perhaps shouted, "Cut the ropes lads! Or were dead men!" A man next to Hobbs drew his knife, dashed to the nearest hook and started cutting the rope attached to it. There was a shot, and the man fell back, with a bullet in his brain. Hobbs was incensed... He hefted a ball from the shot rack, heaved it up over his head and looked over the side.
---The privateer officer threw his empty pistol aside as the English sailor fell to his shot. He turned to his fellows on the rope, smiled and gestured for them to follow him. They weren't smiling back. In fact they looked shocked. One of them murmured,"Quel l'enfer?... Regarder hors!" Curious, the officer looked up. The sky was falling...---
SHMUCK ! Hobbs grinned as the ball struck the first frog on the rope directly in the face. The Frenchman's limp body fell, sending his fellows sprawling to their own deck. The crew near Hobbs cheered, but there was no time for celibration. There were many more lines then there were Englishmen to cut them, and soon the French were pouring over the side. All was not lost though, the Renown's sailors and marines were now comming out from below decks.
~Hobbs~
(NOTE: For this next enty, set the ' way back' clock, back a few minutes... then it catches up. It begins in the
Captain's cabin, moves to the wardroom and finishes on the main deck.)
"Yes, Sir," Buckland saluted and left the captain's cabin to enter his own. An interview with Sawyer, even one as painless as this one, was tiring; perhaps he could sleep for the hour before his watch. Buckland unbuttoned his coat and peeled it off, hanging it from the hook on the back of his door. His hat and shoes, he put carefully aside. Loosening his cravat, he settled into his hammock, not without feeling a sudden urge to reach for one of the bottles tucked in his dunnage. It would help him sleep better, after all, but with scarcely an hour, he might not get up...Buckland reluctantly decided it would be better to sleep poorly and rise timely than plunge in his more habitual comfort. He lay back and closed his eyes, and felt fatigue overcome him...
A few minutes later, it seemed, there was a banging and cry and hue above decks. The bell was rung, there was the tramp of running feet, and other muted noises, screams, the clinking of metal, yelling--was that "All Hands?" Clearly, though, there was a tumult.
Groaning, Buckland pulled himself together and trotted from his cabin, adjusting his sword---Pistols!--he doubled back and snatched them and clambered up onto the deck, where there was a frantic press of men milling about."Goodness me! Are they French?"
One of the Renowns, withdrawing his knife from an assailant's neck, glanced at him, but did not speak. Another pirate was lunging for him, the Renown snatched a sword from the deck, and deflected the pirate's thrust.
"Very well," Buckland replied, pointing a pistol at the pirate. It did not go off.
"Damn." He'd forgotten to load it. "Where is the captain? Captain Sawyer!"
He charged into the fray, deflecting glancing blows with his sword, stepping aside to avoid others--there was Sawyer ahead, was it not? Buckland squinted in the dim light--oh, there was a sword swinging to his left--best be careful--he hopped to the right--
Something slippery under his foot sent him sprawling, and his head
struck the mainmast--and he saw nothing after that.
~Buckland~
(Interior quarterdeck just outside the captain's cabin.)
"Mr. Hornblower!" Bush remained where he was. "An explanation, please! What's going on?! I the Captain not on deck?!
~Bush~
LOCATION: Renown
TIME/DATE: Early evening, Jan 24th, 1802.
(Interior quarterdeck. Outside the Captain's cabin.)
Hornblower looked to Bush, an expression of slight confusion playing across his face. "The Captain? No...he's not...I've been knocking on his door for what seems hours...with no reply! I fear the French are dangerously close to boarding us!" He looked further down the ship to see Archie giving orders. "I saw Mr. Kennedy fly by minutes ago...at least he knows what to do..."
~Horatio~
"Close to boarding us? " Bush took the information in quickly." The Captain must be alerted... immediatley! "He banged on the door himself." Sir! SIR!! "He looked back to Hornblower." Hell and damnation!! What's he doing in there?? Why does he not answer?! SIR?? " As the chaos around him increased, Bush concluded that although he didn't want to anger the unpredictable man, it would be far worse to simply leave him alone. Forcing the door open, he uncerimoniously entered the room. "Sir!?"
~Bush~
(Captain's cabin)
Sawyer jerked from his chair, papers scattering, as the door flew open and revealed the dark-haired man. Sudden surprise flushed his face red, an emotion quickly replaced by anger and contempt. What was the meaning of his lieutenant, to think he had the right to enter his captain's cabin uninvited.
"Mr. Bush" eyes narrowed and lips pursed "Just what do you think you are doing. You will answer for this!"
~Sawyer~
(Main deck)
"Aye aye, Sir!" Matthews shouted over the din. (Re: Mr. Kennedy's order to raise the netting.) "Come on, men!" Another broadside splintered the deck. "Get up!" Styles, as always, was at Matthews' side, ready to get the netting up. The men worked fast and furious to prevent a boarding. The next broadside sent splinters flying all around Matthews. A trickle of blood ran down his face, but that had to be ignored for now. Snipers were hitting the busy seamen left and right, making the job even harder. Finally, they had the netting up.
"Mr. Kennedy, sah! Netting's up, sah!" Matthews reported.
(NOTE: I place this scene here, were it finishes in the time-line since it seems to be a action that would have taken a minute or two at least.)
~Matthews~
(Note: I tied this action in with Buckland's battle post by snagging the identity of his 'Unknown Renown' for Hobbs...)
Hobbs ducked low. The cutlass that would have cleaved his head in two cut through the smoky haze instead. The Frenchman swung again but Hobbs caught his sword-arm. They struggled for the control of the weapon, corps'-a-corps' and fell together to the deck. Hobbs saw a knife on the deck. Grabbed for it, and stuck it in the man's throat. He was startled by a voice behind him. It was Buckland, the First Lieutenant. "Goodness me! Are they French?" He asked.
Still on his knees, Hobbs withdrew the knife and was about to answer, when another pirate lunged for him. He grabbed the cutlass from the deck and managed to deflect the thrust. The man kicked him in the chest though. Knocking the wind and the fight out of him. "Very well." Buckland said. As Hobbs lay gasping for air he saw Buckland ready a pistol, the pirate saw it too and flinched.
Thank god for that thought Hobbs. CLICK! The pistol failed to fire.
"Damn." Buckland swore and drew his sword.
That's it. Hobbs thought, Show the bastard English mettle.
"Where is the Captain?" Buckland demanded. Hobbs still couldn't stand, let alone reply. Buckland engaged the pirate with a moments swordplay, but quickly pushed past him and into the throng crying out for Captain Sawyer. Hobbs' heart sank. Thanks for nothing...
" It is between you and I then, Anglais." The enemy swordsman shrugged," You have the pleasure of crossing swords with Captain du Paix."
Smug bastard... I don't give a damn who you are. Thought Hobbs. Your dead. He held onto a cannon, pulled himself up and raised his blade. He gasped for breath."Agghh!" It hurt to do so. The swordsman smiled. Come here ya bugger... I'll give you something to smile about. As if in response to the gunner's thoughts the Frenchman moved toward Hobbs, playfully swinging his sword left and right.
Hobbs clung to the gun for support. His blade clashed with du Paix's. But he was quickly backed into the rail. The frog was obviously trained at some blasted fancy school, and despite Hobbs's years of experience the young Frenchman was getting the better of him. At that moment Hobbs noticed Mathews and the other men had finished setting the net on the larboard side. The pirates trying to get aboard now, were easy pickings for Sergeant Whiting and his men. The pirate noticed it too. Hobbs tried to get a quick slash in while the swordsman was distracted. In a heartbeat, the pirate's blade interceded. the blade slid down his own, caught the guard on his swordhilt and disarmed him. Hobbs was stunned... And not a little angry. No one had done that to him in a long time... "You might get me..." He said through clenched teeth, "But your attack's a failure." Hobbs nodded to the netting, hoping the frog would look... Just for a second... As his fingers closed on a belaying pin at the rail.
"I think not, mon ami." The pirate wasn't fooled for a moment... and had his own trick up his sleeve. "You see, my attack was simply a diversion." There was a sudden crash against the starboard. Hobbs lost his grip on the rail and the belaying pin as he fell forward to land hard on the deck. Many men on both sides lost their footing. A few would have gone over the side were it not for the net. Some of the pirates who had been trying to cut through the net fell into the deep blue. Lost between the ships. The Frenchman though had crouched and put his hand to the deck for support just as the event occurred. He was the first to stand and Hobbs glared at him. Hobbs saw his cutlass was within reach, but the swordsman moved too quickly and kicked it away from him. The Frenchman's sword was at his throat. He was surrounded by pirates in an instant as all the frogs who could still move swarmed to the starboard as quickly as they could stand. They formed a crude line, then faced the larboard and the confused Renown's as grappling hooks bit into the starboard rail.
"There. You see..." du Paix began," My Captain arrives."
"Your Captain?..." Hobbs was confused. Then he noticed what caused the crash. A second ship... A fast sloop had come up alongside the Renown right behind him. He could see the ship's sails and rigging as he starred up, past the French swordsman. The Privateers aboard this second ship were swarming over the Renown's starboard unchecked thanks to the defensive line created by du Paix's men.
(INSERT: If netting rises on both sides when set, some of the pirates quickly hack down the supporting lines for the starboard side netting. If not.. ignore this.)
Hobbs could hear the men clambering up the side. He cursed, "Damn..." The Renown's were fighting furiously, but so was the privateer crew. That... and they were being pretty damned smart about the whole attack. The frogs defensive line was keeping the Renowns back, while their own reinforcements pored over the side to join them. Then he heard an oddly familiar voice shouting orders. Hobbs turned, but not too much. He still had a sword at his throat. Many men were coming over the rail so it was hard to concentrate on where that damned voice came---THUNK! Some kind of wicked looking scythe, sunk into the rail next to the gunner's ear. Startled by it, Hobbs nearly impaled himself on the blade at his throat ... A tall, black man, a mass of muscles came over the side, but the scythe wasn't his...
"Let me help you Cap'n." The hulking brute offered.
"I can do it myself Dunti!" Shouted a voice that Hobbs now recognized only too well. "Uhnn!..." The voice grunted... and reconsidered. "Alright Dunti... You may assist me." The giant bent over the side and pulled his 'Captain' up onto the deck. The Captain had long, pale, blonde hair tied at the back. He wore a French captain's uniform, a sword was at his hip, and at his sides were a pair of odd looking pistols. Flintlock revolvers. Expensive and definitely not standard issue. The scythe was his. It was attached to his right arm, where his hand used to be... But it was his eyes that caught most of the gunner's attention.. Those cold eyes that could see right into your soul. Hobbs recognized him at once. His old lieutenant... A deserter from the Renown years ago, and the worst bastard he's ever known in his entire life. But that wasn't possible... He was dead!
"God almighty.." Hobbs tried to move away. "Donovan Simpson!..."
"Ahh! Mr. Hobbs!" Simpson noticed him. "Me old shipmate! But it's Donovan Simpson no more. It's Captain Liberty Jack now. In honor of my new Republican allies." He gestured to the French privateers. A couple of them fell to shots from the Renown's men. The pirates returned fire. " And to honor my dear, departed brother. Odd loosing a twin you know... No, I don't suppose you do. Never mind." He pushed du Paix's blade aside and leaned closer to Hobbs. His voice took on an odd, sinister tone. "How have you been old friend?" Mr. Hobbs' mind went blank for a second at that... But only for a second.
"We were never friends!" Hobbs spat in Simpson's face. In an instant Dunti had caught hold of the gunner and lifted him high into the air. The nearly eight foot, brute roared, and Hobbs screamed. If his ribs were bruised before, they were probably broken now. At least it felt like it. The firing from the Renown's stopped for a second as the men starred in awe.
Simpson wiped the spittle from his face. " You really shouldn't make Dunti angry Mr. Hobbs, I don't think he's quite right in the head..."
~Hobbs~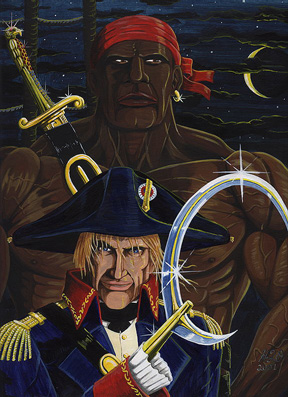 "God almighty..." Hobbs tried to move away. "Donovan Simpson..."